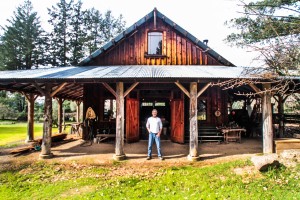 Exploring tree thickened country roads, I finally stumbled upon Richard Horwath's property, nestled deep into the hills above Calistoga. Immediately in awe of this gorgeous estate with rustic refined structures peppered throughout, his country stone and log adorned home is what caught my eye first. This was my dream home, and come to find out… Richard built it all by hand.
Richard Horwath has been a carpenter since 1978, and in the valley for most of that time. He started from humble beginnings as a laborer, moving lumber and sweeping floors. He got his first job building the Wine Country Inn on Lodi lane in St. Helena, in which he remembers, "there weren't many bed and breakfasts back then and highly skilled journeyman were making $8 per hour". He worked with an experienced carpenter who showed him the way and he soaked in everything he possibly could. So much that, his very next job was building a house from scratch for the owner of the Bale mill antique store and it moved Richard to set out on his own. For the next three decades, he would continue to do fine finishing carpentry in the valley, keeping busy based on word of mouth, and spending the last 15 years working with Passivworks.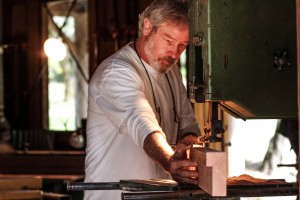 In just seeing his perfectly organized workshop, hand built loft guest quarters, hill-buried wine cellar, hay bail and burlap sack storage shed with fine wood interior, and stunning rustic red wood home filled with hand made wooden slab tables and furniture, one can see that his craftsmanship is flawless. He is relaxed, thorough and passionate about what he does. His favorite part of the job is letting the creative juices flow, conceiving an idea, executing his design and seeing it through. "I get this sense of accomplishment that I wouldn't get from sitting at a desk", he says as he precisely trims edges off a chunk of wood under the natural light that soaks into his open barn door on the property.
He loves working in the valley because of it's rural beauty and prosperity, and he appreciates working with Passivworks because of their high standards with everything. He says there is never any flakiness with Passivworks; there is no mystery, and you always know what to expect. Rick Milburn holds everyone to a high standard and all the employees and subcontractors know that's how the company operates. Richard also likes working with the Passivworks team, and admires the work ethic of Eric and the raw talent of Juan. You can tell that Richard loves what he does, puts every last drop of sweat and calculated thought into his work and creates nothing short of perfect.   As he walks the short grassy path from his warm, barn-inspired workshop back to his hand built house for dinner with his wife, you can see that Richard seems to have it all figured out.