"The Passive House standard is the most rigorous building energy standard in the world." —Graham Irwin, Essential Habitat
Brrrr. It's mid-winter, and heating a house in the North Bay can be expensive. Especially if you live in a mid-century, ranch-style home built on an uninsulated concrete slab, with lots of windows. But even on the coldest day of the year, Sonoma homeowner Catherine O'Neill can heat her entire 2,300-square-foot house with the energy equivalent of a hair dryer.
Catherine O'Neill lives in a Passive House.
"Passive House" is a voluntary, ultra-low energy building standard that creates structures so efficient they don't require typical heating or cooling systems. The term originated with Dr. Wolfgang Feist, a physicist and cofounder of the German-based Passivhaus Institut. (Dr. Feist, in turn, was inspired by physicist Amory Lovins of the Rocky Mountain Institute in Colorado.) As the first Certified Passive House in California and the first Passive House retrofit in the United States, the O'Neill residence is a model for North American environmental architects and builders.
Developed over the past 20 years, Passive House has become "the benchmark for sustainable construction," says Rick Milburn, the first builder in California to be certified by the Passive House Institute U.S. (PHIUS). His company, Napa-based Solar Knights Construction, collaborated with Certified Passive House consultant Graham Irwin of Essential Habitat in Fairfax and architect Jarrod Denton of LDG Architecture in St. Helena to retrofit the O'Neill residence. Read more here: http://www.northbaybiz.com/General_Articles/General_Articles/Sensible_Beauty.php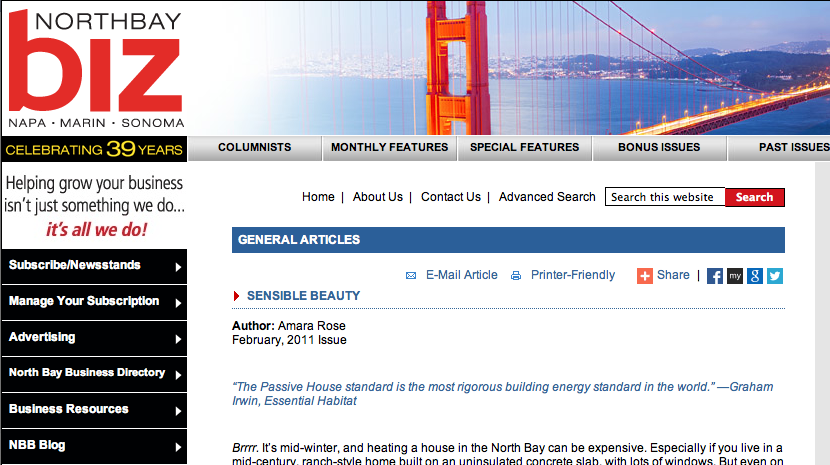 Connect with the Passivworks Team! We'd love to hear about your project idea, custom build or remodel and how we can help make it a reality! CONTACT US